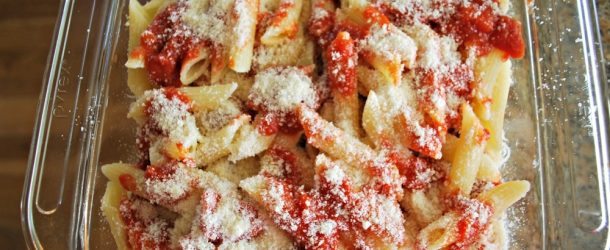 Ahhh – the ease of a bake! Don't you just love it when you find a recipe that doesn't make you sweat in the kitchen for hours? My days get so busy sometimes that I hardly have the time to sit down for five minutes for a cup of coffee (or preferably a glass of wine). But this one is so simple I can do exactly that. Just throw it all in the corningware or pyrex and bake it!
Who doesn't like the ease of that? And this comes out like some good restaurant style baked ziti. I used the bagged chicken that is breaded for mine, but any pre-cooked chicken will work for this recipe. This is an extremely hearty and tasty meal that is great for a potluck. Let us know how yours turns out and please share with your friends.
Original Recipe messforless
USE THE RED NEXT PAGE LINK BELOW FOR THE RECIPE AND INGREDIENTS
Quick Tip: You can use leftover chicken from last night's supper!