baking powder
,
baking soda
,
Bertolli extra-virgin olive oil
,
black pepper
,
Bob's Red Mill
,
cheeseburger tater tot casserole
,
Clabber Girl
,
domino sugar
,
eat
,
Eggland's Best eggs
,
food
,
Gold Medal flour
,
ground beef
,
Heinz ketchup
,
Heinz Worcestershire sauce
,
Johnsonville
,
kosher salt
,
Kraft
,
land o lakes butter
,
McCormick spices
,
Morton salt
,
onion
,
onion powder
,
recipe
,
sharp cheddar cheese
,
TruMoo milk
,
Wesson vegetable oil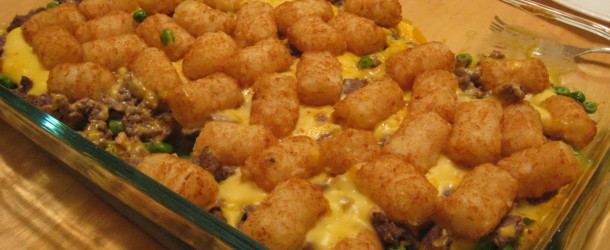 This is one of my all-time favorite casseroles to make. It combines the awesomeness of cheeseburgers with the crispy creation of tater tots. You combine everything into your favorite baking dish, set the oven on 350, and let 'er cook for about half an hour. It really is that simple!
One bite of this cheeseburger tater tot casserole, and you'll be thanking your lucky stars that you decided to make it for dinner tonight. My entire family comes running to the dinner table when they get a whiff of cheeseburger tater tot casserole in the air. I'm so thankful that this meal is cooked in about 30 minutes because honestly, we couldn't much longer.
Recipe courtesy of Brown Sugar Mama.
PLEASE CONTINUE TO THE NEXT PAGE FOR A LIST OF INGREDIENTS.
Quick Tip: Add a dollop of sour cream to individual servings for a added kick of zippy flavor.