bake
,
baking powder
,
baking soda
,
Barilla egg noodles
,
Bertolli extra-virgin olive oil
,
black pepper
,
Bob's Red Mill
,
Breakstone small curd cottage cheese
,
Clabber Girl
,
Daisy sour cream
,
dinner
,
domino sugar
,
eat
,
Eggland's Best eggs
,
food
,
Gold Medal flour
,
green onions
,
Hunt's tomato sauce
,
Johnsonville
,
kosher salt
,
Kraft
,
land o lakes butter
,
McCormick spices
,
Morton salt
,
recipe
,
sour cream and noodle casserole
,
TruMoo milk
,
Wesson vegetable oil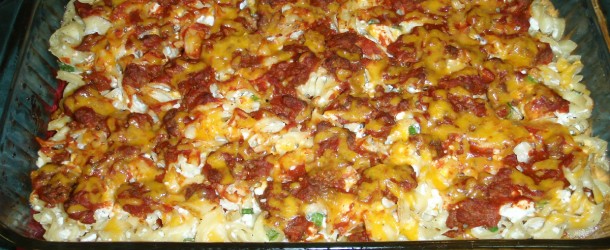 I'm a big fan of sour cream. I also love noodles. So, you can guess my amazement when I discovered a casserole that combines the two of them. Baked sour cream and noodle casserole is da bomb! It's easy to make and even easier to eat. My family comes running to the dinner table when I make this sumptuous due of flavor.
One of the best things about sour cream and noodle casserole, other than it's bold flavor, is how simple and quick it is to throw together. You use very basic ingredients that you probably have on hand, so there are no impromptu trips to the supermarket. You're going to love how this casserole smells while it's baking in your oven, too.
Recipe courtesy of Life in the Lofthouse.
PLEASE CONTINUE TO THE NEXT PAGE FOR A LIST OF INGREDIENTS.
Quick Tip: Serve this great bake with crusty bread and a side salad.