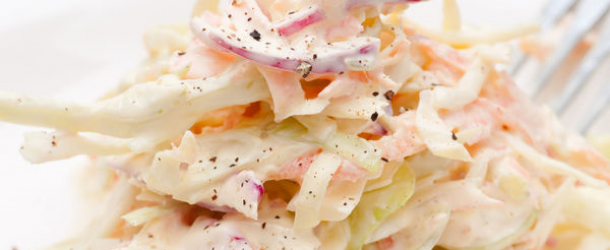 With spring here and summer just around the corner, it's that time of year again. It's time for picnics and backyard barbecues. And what is a picnic or a backyard barbecue without some classic coleslaw salad?
Every backyard barbecue has to have hotdogs, hamburgers, fruit salad, potato salad and the classic coleslaw. And with the weather warming up, it's the perfect time to try out this absolutely delicious creamy coleslaw.
Not only is coleslaw a classic must-have, but it's a great way to provide a refreshing dish for those warm evenings spent with friends and family. The cool cabbage and tangy dressing are a perfect way to cool down before diving in for some juicy watermelon and sweet cake.
But don't worry that you'll spend too much time trying to get this ready. Use a bag of pre-shredded cabbage makes this recipe so easy to get ready.
Recipe and photo courtesy of 12 Tomatoes
PLEASE VISIT THE NEXT PAGE FOR A LIST OF INGREDIENTS.