bakeed meal
,
baking powder
,
baking soda
,
Bertolli extra-virgin olive oil
,
black pepper
,
Bob's Red Mill
,
casserole
,
Clabber Girl
,
dinner
,
domino sugar
,
eat
,
Eggland's Best eggs
,
food
,
fresh mozzarella balls
,
frozen meatballs
,
Gold Medal flour
,
Johnsonville
,
kosher salt
,
Kraft
,
land o lakes butter
,
McCormick spices
,
Morton salt
,
Paul newman marinara sauce
,
Pillsbury refrigerator biscuits
,
recipe
,
sub sandwich bubble bake
,
supper
,
TruMoo milk
,
Wesson vegetable oil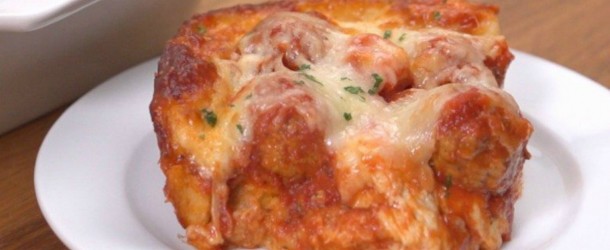 Ladies and gentlemen, I present to you: Meatball Sub Bubble Bake. Let's all say that together, "Meatball Sub Bubble Bake." Doesn't the name just sound insanely palatable? I, for one, am a HUGE meatball sub fan. I love eating them smothered in red sauce, mozzarella cheese, and of course, plump, juicy meatballs.
This casserole covers all of the basics, and then some. You've got rich marinara sauce, chewy cheese, and pillowing biscuits all placed together in one baking dish. In under an hour, you'll be sinking your teeth into this magnificent bubble bake of cheesy, meatbally goodness. My family loves this casserole, and we rarely have leftovers.
Recipe courtesy of Tip Hero.
PLEASE CONTINUE TO THE NEXT PAGE FOR A LIST OF INGREDIENTS.
Quick Tip: Add a few sprinkles of parmesan cheese to individual servings for an extra boost of flavor.