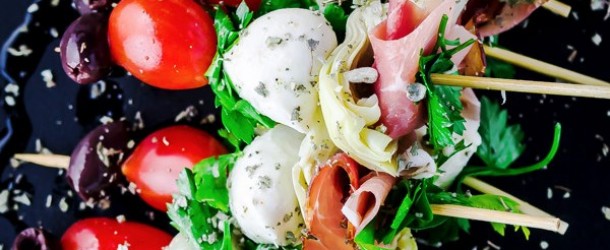 If you are hosting a dinner, this antipasto recipe will surely be a hit! Whether you would have old friends or new colleagues at home, there is no better way to catch up and mingle than to share a delicious meal. An antipasto or Italian appetizer usually has meats, anchovies, olives and cheeses, but your choices are endless.
This recipe is a great choice if your circle of friends or visitors love to occasionally drink wine.
 According to The Mediterranean Dish author Suzy, "You could change things up and use any number of ingredients that you like. For example, you can replace the prosciutto with salami or ham; and instead of fresh mozzarella, you can use any mild cubed cheese that you like. Simple!"
Recipe and photo courtesy of The Mediterranean Dish
PLEASE VISIT THE NEXT PAGE FOR A LIST OF INGREDIENTS.