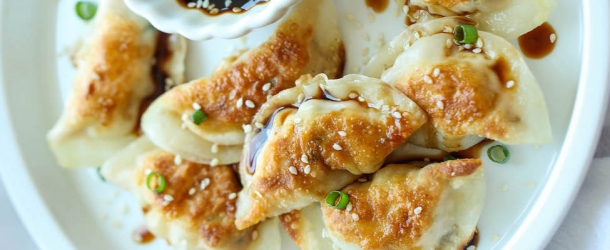 Potstickers are a favorite Asian appetizer for adults and kids alike. These sesame chicken ones have an amazingly authentic umami flavor that comes from the shiitake mushrooms. If you're not familiar with umami, I can't really explain it. You'll just have to make these to find out – I promise you it's tasty!
My family and my children in particular absolutely loved these. I thought they might not enjoy them because of the authentic and sort of adult flavors of the sesame and the shiitake mushrooms. These potstickers aren't your ordinary freezer isle bag variety that my kids are used to… Well, they noticed the difference but in a good way. Apparently I'll have to make these every week from now on! Try these for your next Asian dinner night you will not be disappointed.
Original Recipe Damn Delicious
USE THE RED NEXT PAGE LINK BELOW FOR THE RECIPE AND INGREDIENTS
Quick Tip: Serve with soy sauce.