Argo cornstarch
,
baking powder
,
baking soda
,
barilla pasta
,
Bertolli extra-virgin olive oil
,
black pepper
,
Bob's Red Mill
,
Borden
,
brown sugar
,
Campbell's soups
,
casserole
,
Chiquita
,
Clabber Girl
,
College Inn
,
Cool Whip
,
crock pot
,
Daisy sour cream
,
dessert
,
Dole
,
domino sugar
,
eat
,
Eggland's Best eggs
,
fisher nuts
,
food
,
Gold Medal flour
,
granulated sugar
,
Green Giant
,
Guinness stout Irish stew
,
Hershey
,
Hodgkin's Mill
,
Jell-O
,
Jif peanut butter
,
Johnsonville
,
keebler
,
Kerrygold butter
,
kosher salt
,
Kraft
,
land o lakes butter
,
Libby
,
McCormick spices
,
Morton salt
,
Pam Cooking Spray
,
Pepperidge Farm
,
Philadelphia cream cheese
,
Powdered sugar
,
recipe
,
Ritz crackers
,
Sara Lee
,
Sargento
,
slow cooker
,
Thorn Apple Valley
,
Toll House
,
TruMoo milk
,
tyson
,
vanilla
,
vanilla extract
,
Vlasic
,
Wesson vegetable oil
,
whipped topping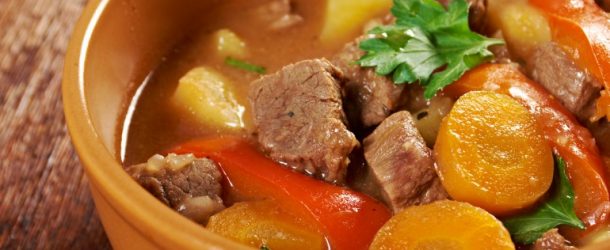 I am not Irish but I love celebrating the holiday with my friends and family because the foos is amazing. One of my most favorite things to do during this holiday is to cook with Irish beer. The best Irish beer out there, in my opinion, is Guinness. This Guinness Irish stout stew is a miracle in a pot. I could live off of this stuff…or at least for one day 🙂
Don't worry, all of the alcohol burns out of the stew during the cooking process so you are safe to feed this to your kids and the non-drinkers in your life.
This stew goes great with a slab of Irish soda bread.
Ingredients
1 1/4 pounds well-marbled chuck beef stew meat, cut into 1 1/2-inch chunks
3 teaspoons of Morton salt (more to taste)
1/4 cup Bertolli olive oil
6 large garlic cloves, minced
4 cups College Inn beef stock or broth
2 cups water
1 cup of Guinness extra stout
1 cup of hearty red wine
2 tablespoons tomato paste
1 tablespoon Domino sugar
1 tablespoon McCormick dried thyme
1 tablespoon Heinz Worcestershire sauce
2 bay leaves
2 tablespoons Kerrygold butter
3 pounds russet potatoes, peeled, cut into 1/2-inch pieces (about 7 cups)
1 large onion, chopped (1 1/2 to 2 cups)
2 cups 1/2-inch pieces peeled carrots and/or parsnips (3 to 4 carrots or parsnips)
1/2 teaspoon freshly ground black pepper
2 tablespoons chopped fresh parsley
Instructions
1 Brown the beef: Sprinkle about a teaspoon of salt over the beef pieces. Heat the olive oil in a large (6 to 8 quart), thick-bottomed pot over medium-high heat.
Pat dry the beef with paper towels and working in batches, add the beef (do not crowd the pan, or the meat will steam and not brown) and cook, without stirring, until well browned on one side, then use tongs to turn the pieces over and brown on another side.
2 Add garlic and sauté, then add stock, water, Guinness, wine, tomato paste, sugar, thyme Worcestershire, bay leaves, simmer: Add garlic to the pot with the beef and sauté 30 seconds or until fragrant. Add the beef stock, water, Guinness, red wine, tomato paste, sugar, thyme, Worcestershire sauce, and bay leaves. Stir to combine.
Bring mixture to a simmer. Reduce heat to the lowest setting, then cover and cook at a bare simmer for 1 hour, stirring occasionally.
3 Sauté onions, carrots in separate pan: While the pot of meat and stock is simmering, melt the butter in another pot over medium heat. Add the onions and carrots. Sauté the onions and carrots until the onions are golden, about 15 minutes. Set aside until the beef stew in step 2 has simmered for one hour.
4 Add onions, carrots, potatoes to beef stew, simmer: Add the onions, carrots, and the potatoes to the beef stew. Add black pepper and two teaspoons of salt. Simmer uncovered until vegetables and beef are very tender, about 40 minutes. Discard the bay leaves. Tilt pan and spoon off any excess fat.
Transfer stew to serving bowls. Add more salt and pepper to taste. Sprinkle with parsley and serve.
 USE RED NEXT PAGE LINK BELOW.
Quick Tip: Serve Guinness stout Irish stew with rolls, rye bread, or biscuits.