7 easy breakfast ideas
,
Argo cornstarch
,
bacon swirls
,
baking powder
,
baking soda
,
barilla pasta
,
Bertolli extra-virgin olive oil
,
black pepper
,
Bob's Red Mill
,
Borden
,
breakfast bundt
,
breakfast casserole
,
breakfast wheels
,
brown sugar
,
Campbell's soups
,
casserole
,
Chiquita
,
cinnamon rolls
,
Clabber Girl
,
College Inn
,
Cool Whip
,
crock pot
,
Daisy sour cream
,
dessert
,
Dole
,
domino sugar
,
eat
,
egg and bacon sandwich
,
egg muffins
,
Eggland's Best eggs
,
food
,
german pancake
,
Gold Medal flour
,
granulated sugar
,
Green Giant
,
Hershey
,
Hodgkin's Mill
,
Jell-O
,
Jif peanut butter
,
Johnsonville
,
keebler
,
kosher salt
,
Kraft
,
land o lakes butter
,
Libby
,
McCormick spices
,
Morton salt
,
Pam Cooking Spray
,
Pepperidge Farm
,
Philadelphia cream cheese
,
Powdered sugar
,
recipe
,
Ritz crackers
,
Sara Lee
,
Sargento
,
slow cooker
,
Thorn Apple Valley
,
Toll House
,
TruMoo milk
,
tyson
,
vanilla
,
vanilla extract
,
Vlasic
,
Wesson vegetable oil
,
whipped topping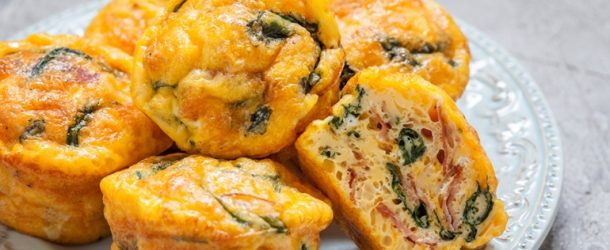 7 Easy Breakfast Ideas, #5
A quick and easy breakfast bundt that'll make morning chaos a thing of the past! Seriously, could this recipe get any more awesome?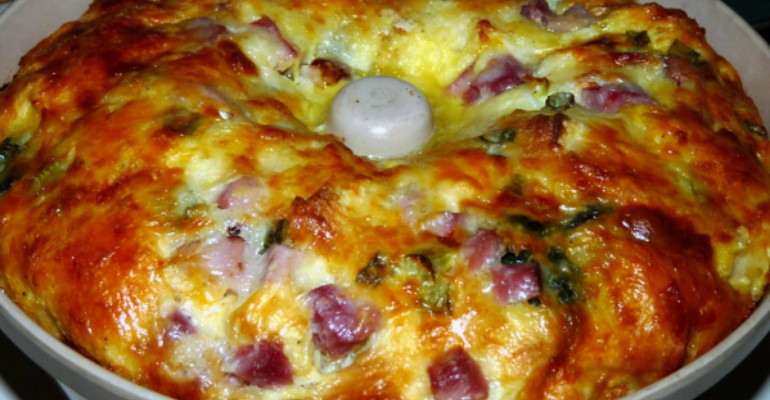 Thank you so much, Audrey from the Melady Cooks blog for sharing it with us. We appreciate YOU! Check out what my pal Audrey from the Melady Cooks food blog had to say about this recipe:
Breakfast bundts can also be made ahead and refrigerated, then baked the next morning. I often bake an egg bake the night before and microwave it for future breakfasts. Then you don't need both eyes open to prepare your breakfast in the morning! I can't imagine bouncing out of bed to create this meal in the morning. If you have morning energy, you go! I don't want to hear about it.
I like the fact you can make this breakfast bundt ahead of time and it doesn't get all gross in the fridge. Such a time saver in the morning!
Ingredients
1 heaping cup ham; diced in 3/4″ cubes
2 cups spinach; chopped
1/2 teaspoon Morton salt
1/4 teaspoon black pepper
1/4 teaspoon garlic powder or minced garlic
large pinch cayenne
2 cups shredded hash browns (I used frozen)
8 cups bread; diced in 3/4″ cubes
1/4 cup green onions; chopped
12 large eggs (I used 8 jumbo eggs)
2 cups milk
1 cup heavy cream
1/2 teaspoon salt
1/2 teaspoon black pepper
1 teaspoon McCormick dry mustard
2 cups Kraft shredded cheese (I used Swiss and cheddar)
Instructions
Preheat oven to 400° F. Spray bundt pan heavily with cooking spray or grease very well with shortening.
Sauté spinach in a drizzle of oil in a large nonstick skillet over medium high heat until wilted. Season with salt, pepper and minced or granulated garlic. Set aside for several minutes to cool.
In same skillet fry the hash browns in a drizzle of oil until lightly browned and beginning to crisp up. Salt and pepper to taste. Set aside to cool.
In the greased bundt pan layer half of the diced bread. Layer diced ham, green onions, spinach, hash browns and one cup of shredded cheese. Cover with remaining bread cubes.
In a bowl whisk the eggs, milk, cream, salt, pepper, ground mustard and cayenne until well mixed. Pour over contents of bundt pan, making sure the top is thoroughly wet. Press down lightly with your fingers to settle contents in the egg mixture. Let stand on counter for 30 minutes to soak up the liquid.
Layer with final cup of cheese and bake in preheated oven for 40 minutes or until knife inserted in center shows eggs have set and are not runny.
Recipe and image courtesy of Melady Cooks.
USE THE RED NEXT PAGE LINK BELOW FOR #4 OF THE 7 EASY BREAKFAST IDEAS
Quick Tip: Serve this delicious breakfast bundt with salsa for Tex-Mex kind of spin.