Argo cornstarch
,
baking powder
,
baking soda
,
barilla pasta
,
Bertolli extra-virgin olive oil
,
black pepper
,
Bob's Red Mill
,
Borden
,
breadcrumbs
,
brown sugar
,
Campbell's soups
,
cannellini beans
,
casserole
,
cassoulet
,
chicken legs
,
chicken stock
,
Chiquita
,
Clabber Girl
,
College Inn
,
Cool Whip
,
crock pot
,
Daisy sour cream
,
dessert
,
Dole
,
domino sugar
,
dry white wine
,
eat
,
Eggland's Best eggs
,
food
,
fresh rosemary
,
garlic
,
Gold Medal flour
,
granulated sugar
,
Green Giant
,
green olives
,
Hershey
,
Hodgkin's Mill
,
Italian sausages
,
Jell-O
,
Jif peanut butter
,
Johnsonville
,
keebler
,
kosher salt
,
Kraft
,
land o lakes butter
,
Libby
,
McCormick spices
,
Morton salt
,
olive oil
,
onion
,
Pam Cooking Spray
,
Pancetta
,
peeled canned tomatoes
,
Pepperidge Farm
,
Philadelphia cream cheese
,
Powdered sugar
,
recipe
,
Ritz crackers
,
Sara Lee
,
Sargento
,
slow cooker
,
smoked paprika
,
Thorn Apple Valley
,
Thyme
,
Toll House
,
TruMoo milk
,
tyson
,
vanilla
,
vanilla extract
,
Vlasic
,
Wesson vegetable oil
,
whipped topping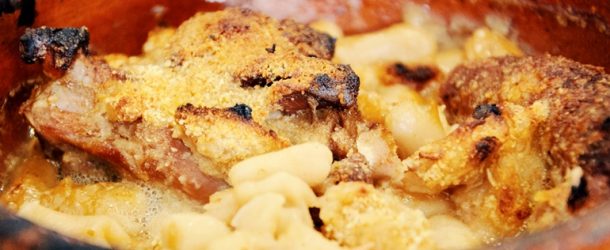 It's super easy to tweak this recipe to make it just perfect for your taste buds. I would recommend, though, to make it as is first. You may not want to change a thing, after all!
Apparently in France, they often use duck for cassoulets. However, this was stupendous with chicken, too! I'm not a big fan of olives but they were amazing in this dish, so I'm definitely going to add them every time I make this. If you'd like, you could make the whole dish ahead, refrigerate, and then just heat it through the next day when ready to serve.
Ingredients
½ lb pancetta, cut into ¼-inch dice
5 spicy Italian sausages, cut into about ½-inch slices
5 chicken legs, skin removed
2-1/2 cups thinly slice onion
2 Tbsp roasted garlic
2-1/2 tsp dried thyme
1-1/4 tsp smoked paprika
1-1/4 cups roughly chopped pitted, green olives
1-1/4 cup roughly chopped, peeled canned tomatoes
1-1/4 cup dry white wine
2-1/2 cups Swanson chicken stock
4-1/4 cups cooked cannellini beans
1 Tbsp finely chopped, fresh rosemary
2 cups breadcrumbs
Sea salt and freshly ground black pepper
Bertolli olive oil
Instructions:
Preheat the oven to 275 F.
Add the pancetta to a large stockpot or Dutch oven and put it on the stove over low heat. Render the pancetta for about 10 minutes.
Turn the heat up to medium-low, add the sausage. Cook until sausage starts to brown, about 10 minutes. Move the pancetta and sausage around the pot to make a bit of space. Add the chicken legs and sear them in the pancetta and sausage fat and juices. When slightly browned on all sides, reduce the heat to low, cover the pot and cook until the meat is cooked through, about 15 minutes.
Remove all of the meat from the pot with a slotted spoon, and add it to a large plate, leaving behind the fat.
Over medium-high heat, add the onions. Stirring every few minutes or so, cook the onions until they are very tender and are beginning to become brown, about 15 minutes. Add the roasted garlic and stir to blend.
Meanwhile, remove the chicken meat from the bones and break it into bite-sized pieces.
Add the thyme and paprika to the pot and cook for a couple minutes.
Add the olives, return all of the meat to the pot, and stir to combine. Then deglaze the pot with the tomatoes, wine and stock. Use a flat-bottomed wooden spatula to scrape any stuck bits of food from the bottom of the pot, back into the mixture.
Bring to a boil, then reduce the heat to medium-low and simmer to reduce the liquid by one third.
This should take about 30 minutes.
Fold in the cooked cannellini beans and season generously with salt and pepper.
Pour the mixture into a baking dish (approximately 9 X 13 X 2-1/2-inch baking dish' something like Emile Henry stoneware is perfect.)
Add the rosemary to the breadcrumbs and sprinkle the mixture evenly on top of the cassoulet.
Drizzle the entire thing with olive oil and then bake, covered, in the preheated oven, covered with foil for 2 hours. Then uncover and place under the broiler to brown the top, about 1 minute.
Let it rest for at least 20 minutes before serving.
USE RED NEXT PAGE LINK BELOW
Quick tip: To make this cassoulet gluten-free, use gluten-free bread crumbs.