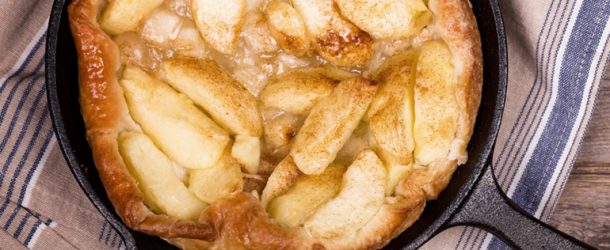 Just Like Grandma's Apple Cake – Only Better!
If there's one thing in this world I could not live without, it would have to be this skillet apple cake. Ok, ok – of course I would have to choose my family over this cake but this would come as a close second! You see, this isn't your ordinary apple cake. It's not just a bunch of apple slices on top of cake batter – nope, this is way more than that, and you're about to find out all the delicious secrets.
First of all, it is baked in a cast iron skillet. In my opinion (and I do believe I'm not the only one feeling this way), anything made in a cast iron is always going to be twice as delicious. But don't worry if you don't have one – you can bake this in a square pan and still get a delightful cake.
A cast iron skillet isn't the only magic trick this recipe has to offer. Instead of just adding plain apple slices, you're going to put together a wonderful concoction that will blow your taste buds away! Hopefully only for a couple of seconds, because you're going to want to enjoy this with every single taste bud you own.
USE THE RED NEXT PAGE LINK BELOW FOR THE RECIPE AND INGREDIENTS
Quick Tip: Serve warm with your favorite ice cream!