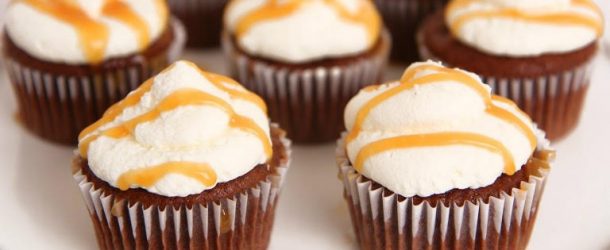 I love finding a recipe that is different, especially when I can tweak it to make it more of my own. For this recipe, I wanted to add another touch of color. It already had the brown from the chocolate and the beige from the caramel, so I wanted to add a dollop of white on the top. I simply whipped heavy cream and powdered sugar until it became whipped cream and then placed a dollop on top of each. It gave it a creamy and smooth texture when you bit into all three colors, and it was absolutely delicious!
Check out what our friends over at Table For Two had to say about these:
"I'm SO EXCITED to share with you all this cupcake recipe. I truly believe this is the best cupcake I've ever made. The buttercream tastes exactly like the first sip of the salted caramel mocha drink you get at Starbucks (well, sans caffeine)."

 
Guys, this is Starbucks in a cupcake. How amazing is that?!
Ingredients
1 box Betty Crocker devil's food cake mix
1 package of Jell-o instant chocolate pudding
1 cup Daisy sour cream
1 cup Wesson vegetable oil
4 eggs, beaten
1/2 cup McArthur milk
1 tsp vanilla
1 1/2 cup Hershey's mini chocolate chips
FOR THE SALTED CARAMEL BUTTERCREAM
15-20 caramel candies, unwrapped
3-4 tbsp Land O' Lakes heavy cream
2 sticks Land O' Lakes unsalted butter, room temperature
1 1/2 tsp kosher salt, divided
4 cups Domino powdered sugar, divided
Instructions
Preheat oven to 350 degrees and line muffin tins with baking cups.
In a bowl of a stand mixer fitted with the paddle attachment or in a large bowl, mix together cake mix, instant pudding, sour cream, vegetable oil, eggs, milk, and vanilla. Mix very well. Gently stir in the chocolate chips with a spatula.
Equally divide the batter into the baking cups, filling 2/3 of the way full. Bake for 18-22 minutes, let cool for 5 minutes in pan, then remove and place them on wire cooling racks to cool completely.
In the meantime, make your buttercream by first melting the caramel candies and heavy cream in a small saucepan over medium heat. Once the caramel is all melted, stir in 1/2 tsp. of salt.
In the bowl of a stand mixer fitted with the paddle attachment, cream the butter until light and fluffy. Add in the remaining 1 tsp. of salt.
Gently add half of the powdered sugar to the butter and beat until light and fluffy. Then drizzle in the caramel while the mixer is on low. If the caramel has hardened up a bit that you can't pour it, heat it up just enough so you can pour it into the mixer with ease.
Add the remaining 2 cups of powdered sugar and beat until well combined.
Put the frosting in a piping bag fitted with a pastry tip of your choice.
Pipe the frosting on top of the cooled cupcakes.
Store cupcakes in an airtight container for up to 4 days.
USE RED NEXT PAGE LINK BELOW.
Quick Tip: Make a double batch of frosting if you want a generous dollop over each cupcake.
Thanks again to Table for Two Blog for this amazing recipe.