amish friendship banana coffee cake
,
Amish Friendship Bread Starter
,
baking powder
,
baking soda
,
banana coffee cake
,
bananas
,
cardamom
,
cinnamon
,
cloves
,
Daisy sour cream
,
domino brown sugar
,
eggs
,
ginger
,
Gold Medal all-purpose flour
,
granulated sugar
,
land o lakes unsalted butter
,
Nutmeg
,
Vanilla Bean
,
vanilla chai streusel
,
vanilla extract
,
walnuts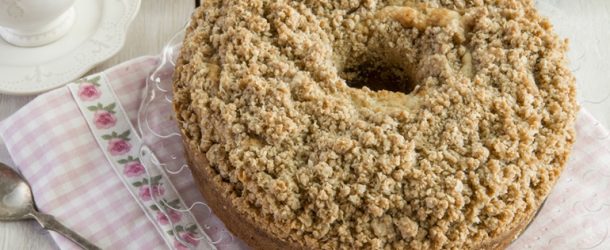 You Don't Need Magical Baking Powers To Make This Delish Cake!
My Mom bakes amazing cakes. Actually, she bakes just about anything, without even using recipes, and they always turn out so delicious you'd think they were from a pastry shop! I, on the other hand, can only bake bread and dinner rolls without a recipe. For anything else, I need to follow strict instructions – and even then things tend to go wrong quite often. I don't know why! I've blamed my oven, I've blamed the flour, I've blamed the recipe creators… but eventually I'm going to have to admit it's probably me.
This recipe seemed simple enough for me to make, so I gave it a try. I was prepared for another disaster, so you can imagine how happy I was when the cake turned out heavenly! That streusel topping is out of this world and it took all of my will power not to eat the whole thing right then and there.
USE THE RED NEXT PAGE LINK BELOW FOR THE RECIPE AND INGREDIENTS.
Quick Tip: Use a 9×13-inch cake pan for this recipe.