Argo cornstarch
,
baking powder
,
baking soda
,
barilla pasta
,
Bertolli extra-virgin olive oil
,
black pepper
,
Bob's Red Mill
,
Borden
,
broccoli florets
,
brown sugar
,
Campbell's soups
,
casserole
,
Chiquita
,
Clabber Girl
,
College Inn
,
Cool Whip
,
crock pot
,
Daisy sour cream
,
dessert
,
Dole
,
domino sugar
,
eat
,
Eggland's Best eggs
,
food
,
garlic
,
Gold Medal flour
,
granulated sugar
,
Green Giant
,
Hershey
,
Hodgkin's Mill
,
Jell-O
,
Jif peanut butter
,
Johnsonville
,
keebler
,
kosher salt
,
Kraft
,
land o lakes butter
,
lasagna
,
lasagna noodles
,
Libby
,
McCormick spices
,
Morton salt
,
mushrooms
,
onion
,
Oregano
,
Pam Cooking Spray
,
parmesan
,
pasta
,
Pepperidge Farm
,
Philadelphia cream cheese
,
Powdered sugar
,
recipe
,
red bell pepper
,
red pepper flakes
,
Ritz crackers
,
Sara Lee
,
Sargento
,
Sargento light ricotta cheese
,
Sargento reduced fat mozzarella cheese
,
slow cooker
,
Thorn Apple Valley
,
Toll House
,
tomato sauce
,
TruMoo milk
,
tyson
,
vanilla
,
vanilla extract
,
vegetable lasagna
,
Vlasic
,
Wesson vegetable oil
,
whipped topping
,
zucchini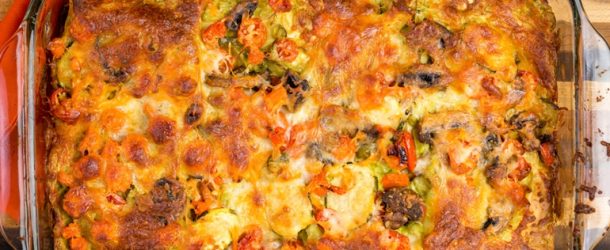 Of course, if you absolutely must have ground beef in your lasagna, you could still use this recipe.
Just add add some browned ground beef into the veggie-tomato sauce. Or use chicken or turkey, for a leaner option! The possibilities are endless with this one but I highly recommend you give the vegetable version a try first. You'll be pleasantly surprised! The first time I ever had veggie lasagna was when I was still in high school and my sister made some. It was absolutely incredible but she lost the recipe, and back then we didn't have the internet to search for a new one. I kind of forgot about it over the years but this recipe brought it all back to me. This one is a keeper!
Ingredients
2 tablespoon Bertolli extra virgin olive oil
1 tablespoon Land O' Lakes butter
1 cup Vidalia onion (diced)
3 cloves of garlic (minced)
¼ teaspoon red pepper flakes
1 ½ cup button mushrooms (sliced)
3 cups broccoli florets (chopped)
1 cup zucchini (chopped)
1 red bell pepper (chopped)
1 ½ cup tomato sauce (I usually use tomato basil)
1 teaspoon oregano
1 cup Sargento light ricotta cheese
2/3 cup parmesan (grated)
1 Eggland's egg
3 cups Sargento reduced fat mozzarella cheese (shredded)
½ cup tomato sauce (for bottom and top of lasagna)
½ cup parmesan cheese (shredded, for top of lasagna)
12 lasagna noodles
Salt and pepper to taste
Instructions:
Sauté the garlic, onion, and red pepper flakes in the oil/butter over medium heat. Add mushrooms and cook for 4-5 minutes.
Add in the broccoli florets and stir to combine. Add a pinch of salt. Cook for 5-6 minutes. Add in the zucchini and diced bell pepper. Stir to combine. Cook for another 5 minutes.
Mix in the oregano and tomato sauce. Cook for about 10 minutes longer, or until the sauce has reduced a bit and vegetables are tender. Remove from heat.
In a bowl, stir together the ricotta, parmesan, and egg. Cook the lasagna noodles as indicated on the package.
Assembly:
Preheat the oven to 375 F.
In a 9×13 casserole pan, pour ¼ cup of sauce. Spread to coat the bottom of the pan. Lay out 4 of the lasagna noodles, cutting them if needed, to make them fit. Spread half of the ricotta mixture onto these noodles. Spoon half of the vegetable mixture over the ricotta. Sprinkle with a little less than 1 ½ cups of the mozzarella cheese.
Lay 4 more noodles on top of the mozzarella cheese. Repeat all of the steps – ricotta, vegetables, mozzarella, noodles. Pour ¼ cup of tomato sauce over the top layer of noodles. Then sprinkle with any remaining mozzarella cheese and then ½ cup shredded parmesan.
Cover with foil and bake for 20 minutes, then remove the foil and then bake uncovered for 20 more minutes.
USE RED NEXT PAGE LINK BELOW.
Quick tip: Use whole grain lasagna noodles for an even healthier option.