Argo cornstarch
,
baking powder
,
baking soda
,
barilla pasta
,
Bertolli extra-virgin olive oil
,
black pepper
,
Bob's Red Mill
,
Borden
,
brown sugar
,
Campbell's soups
,
casserole
,
Chiquita
,
Chocolate lava cake
,
Clabber Girl
,
College Inn
,
Cool Whip
,
crock pot
,
Daisy sour cream
,
dessert
,
Dole
,
domino sugar
,
eat
,
Eggland's Best eggs
,
eggs
,
food
,
Gold Medal flour
,
granulated sugar
,
Green Giant
,
Hershey
,
Hershey's semisweet baking chocolate
,
Hodgkin's Mill
,
Jell-O
,
Jif peanut butter
,
Johnsonville
,
keebler
,
kosher salt
,
Kraft
,
land o lakes butter
,
land o lakes unsalted butter
,
Libby
,
McCormick spices
,
Morton salt
,
Pam Cooking Spray
,
Pepperidge Farm
,
Philadelphia cream cheese
,
Powdered sugar
,
recipe
,
Ritz crackers
,
Sara Lee
,
Sargento
,
slow cooker
,
Thorn Apple Valley
,
Toll House
,
TruMoo milk
,
tyson
,
vanilla
,
vanilla extract
,
Vlasic
,
Wesson vegetable oil
,
whipped topping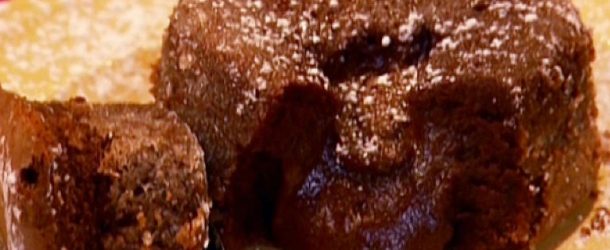 My father in law's specialty are soufflés when people come over and it is positively amazing, so I knew I had to do something cool when he was coming for a visit. That is why I had prepared chocolate lava cakes. With a scoop of ice cream, this can be the most inviting and comforting dessert you will ever make for someone in your home. They will feel so loved by you when they see the effort you put into them!
Check out what our friends over at Buzz Feed had to say about this,
"Real love has sturdy foundations and a warm, gooey center."
Ain't this the truth! This is the perfect recipe to surprise your significant other with on Valentine's Day, too. Follow the tips on the site to learn how to make a an easy heart on it!
Ingredients
4 ounces Hershey's semisweet baking chocolate, chopped
2 tablespoons Land O' Lakes unsalted butter, at room temperature, plus more for greasing custard cups
2 tablespoons Domino sugar, plus more for the custard cups
2 large eggs
2 tablespoons Gold Medal all-purpose flour
1/8 teaspoon kosher salt
Instructions
Preheat oven to 425°F, and grease two 6 to 8-ounce custard cups or ramekins generously with butter. Put a small spoonful of sugar in each cup, then turn the cup sideways and rotate it so that the sugar is coating the butter all around. Dump out any excess sugar. Place the greased cups on a baking sheet or oven safe dish.
Put the chopped chocolate in a microwave-safe bowl. Microwave it on high for 30 seconds, take it out and stir it, then microwave it for another 30 seconds and stir it again. It should be completely melted. If there are still chunks of unmelted chocolate, microwave for another 20 seconds and stir.
In a medium mixing bowl, cream the room temperature butter and the sugar with an electric mixer or a rubber spatula. The mixture should be thoroughly combined, smooth, and paste-like, not lumpy.
Add the two eggs to the creamed butter and sugar, and beat it with the electric mixer or a whisk until everything is combined and the mixture is starting to foam, about a minute. Add the flour and salt, and again beat everything with the mixer until it's thoroughly mixed.
Add about 1/3 of the melted chocolate to the mixture in the mixing bowl, then use a rubber spatula to gently fold it in. Add the rest of the chocolate mixture, and fold together until you have a uniform batter with no streaks.
Divide the batter evenly between the two greased custard cups, then bake the cakes in the preheated oven until the tops are just set but the cakes still jiggle slightly when you shake them, about 11 minutes.
Let the finished cakes sit in cups for five minutes when they're finished baking. Then, flip each cup over on a dessert plate, and tap the bottoms of the cups so that the cakes fall out.
Serve immediately. If you want, you can garnish them with powdered sugar, whipped cream, and berries.
USE RED NEXT PAGE LINK BELOW.
Quick Tip: Serve immediately for best results.
Thanks again to Buzz Feed for this amazing recipe.
Social Share