avacodo
,
baking powder
,
baking soda
,
Bertolli extra-virgin olive oil
,
black pepper
,
Bob's Red Mill
,
Clabber Girl
,
domino sugar
,
eat
,
Eggland's Best eggs
,
food
,
fried egg
,
Gold Medal flour
,
hormel bacon
,
Johnsonville
,
kosher salt
,
Kraft
,
land o lakes butter
,
McCormick spices
,
Morton salt
,
recipe
,
Sara Lee Bread
,
TruMoo milk
,
ulitimate grilled cheese sandwich
,
unsalted butter
,
Wesson vegetable oil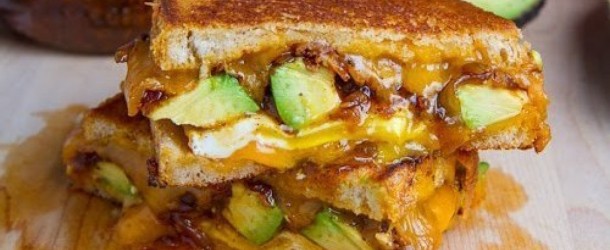 We all love grilled cheese sandwiches, right? I mean, they are a staple lunch option from our childhood. Shoot, as an adult, I still make myself a grilled cheese from time to time. If you want a bit more pizzazz in your grilled cheese, you've got to try this recipe. It's uh-mazing, folks.
Seriously, make traditional grilled cheese for the kiddos and plate this baby up for yourself. It's so good! Actually, my kids really like this amped up version of grilled cheese goodness and ask me to make it for them all the time. It combines all the great things about the nostalgic little sandwich with a fried egg, avocado, and much more.
Recipe courtesy of The Pioneer Woman.
PLEASE CONTINUE TO THE NEXT PAGE FOR A LIST OF INGREDIENTS.
Quick Tip: I love serving this sandwich with tomato soup. Some things never change…