aluminum foil
,
baked potatoes
,
baking powder
,
baking soda
,
Bertolli extra-virgin olive oil
,
black pepper
,
Bob's Red Mill
,
Clabber Girl
,
crock pot
,
domino sugar
,
eat
,
Eggland's Best eggs
,
food
,
Gold Medal flour
,
Johnsonville
,
kosher salt
,
Kraft
,
land o lakes butter
,
McCormick spices
,
Morton salt
,
recipe
,
slow cooker
,
TruMoo milk
,
Wesson vegetable oil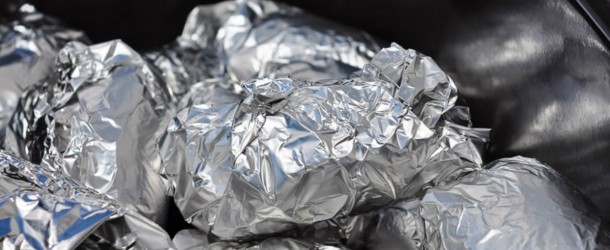 Man, am I ever glad I came across this recipe. It's more of a life hack, really. Have you ever needed to make baked potatoes but you were low on space in your oven? I know I've run into this problem time and time again during holiday dinners and family gatherings. Then, I came across this idea.
I bet you didn't know this, but you can cook baked potatoes in your crock pot! Yes, it's going tot ake a little longer than your oven, but it saves a whole lot of space. All you do is start the potatoes in the morning and by the time the rest of your meal is done, your spuds will be soft and piping hot. It's a genius idea! My mother turned her nose up at this recipe…until she tried it for herself. Her nose promptly pointed south.
Recipe courtesy of Food.
PLEASE CONTINUE TO THE NEXT PAGE FOR A LIST OF INGREDIENTS.
Quick Tip: Make sure to prick small holes in the potatoes with a fork or toothpick. This allows the steam to escape.