Bertolli extra-virgin olive oil
,
butter
,
Campbell's cream of chicken soup
,
chicken casserole
,
chicken crepe casserole
,
crepes
,
Daisy sour cream
,
Eggland's Best eggs
,
Gold Medal flour
,
Hellman's mayonnaise
,
Kraft Cheddar cheese
,
land o lakes butter
,
Melted Butter
,
milk
,
Morton's salt
,
mushrooms
,
pepper
,
Perdue chicken
,
salt
,
spinach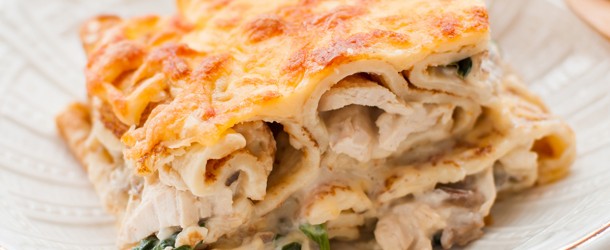 You've enjoyed crepes with your morning cup of coffee, and even as a sweet dessert, but have you had them in an entrée? Impress your family with this creamy combination of flavors and textures, and deviate from your normal dinner routine.
All you need is 1 hour to prepare this casserole and it is worth every minute. This stacked chicken crepe dish is loaded with mushrooms, chicken, spinach, and let's not forget the cheese! Make this for any get-together or pot-luck and instantly please the masses.
Recipe courtesy of 12 Tomatoes
CONTINUE TO THE NEXT PAGE FOR A LIST OF INGREDIENTS.
Quick Tip: Always spray the baking dish with Pam spray to avoid sticking!