5 ingredients
,
baking powder
,
baking soda
,
Bertolli extra-virgin olive oil
,
black pepper
,
Bob's Red Mill
,
Clabber Girl
,
corn
,
corn casserole
,
cream corn
,
Daisy sour cream
,
domino sugar
,
eat
,
Eggland's Best eggs
,
food
,
Gold Medal flour
,
Green Giant
,
Jiffy corn muffin mix
,
Johnsonville
,
kosher salt
,
Kraft
,
land o lakes butter
,
McCormick spices
,
Morton salt
,
recipe
,
Southern
,
TruMoo milk
,
Wesson vegetable oil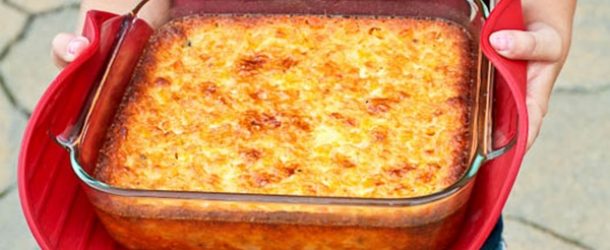 You are just 5 ingredients away from enjoying this amazing casserole!
Nothing says southern charm like a traditional corn casserole. This side dish is both savory and sweet, composed of just a few ingredients that we know you have sitting in your pantry this very moment. Serve it as a side dish on family dinner night or take it along with you to a potluck. I enjoy making this casserole on those chilly fall or winter evenings when everyone has had a long day at work and school. What better way to make your tummy feel comforted than a piping hot dish like this?
You'll be amazed at how fast you can put this delicious concoction together made from ingredients like cream corn, cornmeal mix, and melted butter. Corn casserole pairs well with spare ribs, collard greens, and flaky buttermilk biscuits. Be warned, one scoopful is never enough!
My husband and kids absolutely adored this yummy casserole and were eagerly asking for seconds. We had a bit of casserole leftover so my hubby took them to work the next day and ate them for lunch. He said his co-workers, a bunch of burly mechanics, were wishing they had some 🙂
Image courtesy of Free Recipe Network.
USE THE RED NEXT PAGE LINK BELOW FOR THE RECIPE AND INGREDIENTS
Quick Tip: Liberally spray your baking dish with Pam Cooking Spray to avoid sticking.