basil
,
Billy Bee honey
,
carrots
,
crock pot
,
crushed red pepper
,
dinner
,
eat
,
entree
,
food
,
garlic
,
Gold Medal flour
,
Heinz ketchup
,
honey garlic chicken
,
Kikkoman soy sauce
,
land o lakes butter
,
McCormick spices
,
meal
,
Morton salt
,
Oregano
,
pepper
,
potatoes
,
recipe
,
supper
,
TruMoo milk
,
tyson
,
vegetables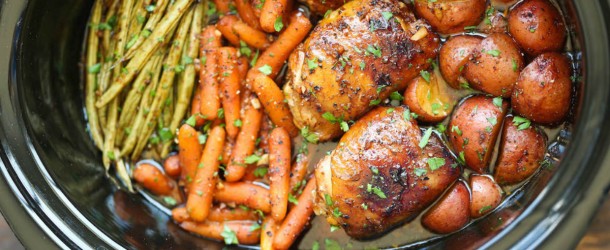 If you're into one pot meals like I am, this recipe is probably going to make you feel super giddy. Seriously, besides tasting absolutely amazing, slow cooker honey garlic chicken and vegetables is one of the easiest wholesome meals I've ever made for my family. Who doesn't like the idea of throwing everything into the Crock Pot, coming back in a few hours, and chowing down on awesome food? I hear crickets…
This is a meal you'll add to your meal plan for years to come. The recipe suggests a variety of vegetables to add to the pot, but feel free to toss in whatever tickles your fancy. I used baby carrots, potatoes, asparagus, and added in a few cups of sweet corn. Needless to say, it this dish was a huge success at my dinner table.
Recipe and photo courtesy of Damn Delicious.
PLEASE VISIT THE NEXT PAGE FOR A LIST OF INGREDIENTS.
Quick Tip: You can easily double this recipe when serving a crowd or making an extra meal for your freezer.