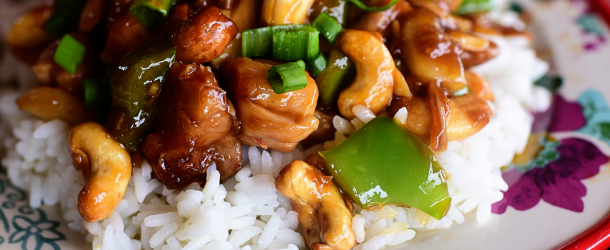 Everyone has those meals that are go-to meals for when you need something really delicious in a hurry. This savory cashew chicken is perfect for just such an occasion. It's succulent and juicy chicken with water chestnuts and green bell peppers. Everything is topped with a juicy and delicious sauce flavored with the traditional soy sauce and the spicy sweet oyster sauce.
The best part of this meal is that it comes together in a snap! Once you mix the sauce ingredients together, cook the chicken while chopping up the vegetables. It's also just long enough to cook up some Lo Mein noodles to serve with the cashew chicken.
The tender chicken is cooked in the delicious sauce for a couple of minutes, so the chicken absorbs the flavor of the sauce. Combine this with the water chestnuts, bell pepper and crunchy cashews, it's a definite winner!
Photo & Recipe Courtesy of The Pioneer Woman Cooks
PLEASE VISIT THE NEXT PAGE FOR A LIST OF INGREDIENTS.