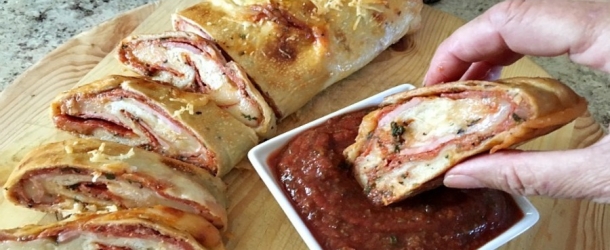 Check out what our friends at My Turn for Us had to say about this delicious Italian classic:
"Stromboli is always a favorite here – and it's been awhile since we've made it! I think this needs to go on our menu soon!"
I hear ya! It's about time this goes on my menu as well. Boy i'm drooling just looking at this picture. If the hardest decision of my day is what to stuff it with, then i'm in a good place! I can't wait to dig in to this baby!
Ingredients
1/2 Homemade pizza dough, or store-bought Pillsbury pizza crust

Homemade pizza sauce, or store-bought Ragu pizza sauce

8 oz  Galbani mozzarella cheese, grated

Hormel Pepperoni or ham, thinly sliced

And/Or other pizza toppings of your choice such as sliced black olives, sliced mushrooms, sliced onions etc

1 whole Eggland's Best egg

1 tablespoon water

1/4 cup Kraft parmesan cheese
[su_button url="http://www.myturnforus.com/2016/02/homemade-stromboli.html" background="#ee2218″ color="#060606″ size="9″]Go Here for Recipe Directions[/su_button]
Quick Tip: Brush the loaf with an egg wash before baking for a lovely golden brown color.
Thanks to My Turn for Us for this irresistible Italian dish!