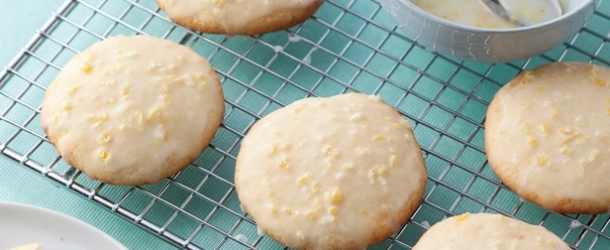 You might think the concept of lemon and cheese, sounds like a strange combination, but this creamy ricotta is remarkable against the citrus profile of lemon, in these easy-to-bake cookies.
I know what you're thinking….citrus and dairy…do those even mix?  Let me tell you sister, you're in for a real surprise!
Frosted in a zesty powdered sugar glaze, you'd never realize how amazing this combination truly is!
I made these for a bake sale at my daughter's school, and even beside the brownies, they were a total hit!
Make two batches, because these won't last on your counter top!
Not only are these cookies splendid on their own, the dripping lemon glaze sets everything off in a sweet and citrus dessert anyone can enjoy.  
This recipe makes about 44 cookies and is ready in under 2 hours.  Enjoy!
Perfect for a bake sale, or any sort of event, they are lighter than your average chocolate fare, and always at hit! 
Recipe and photo courtesy of Cooking Channel TV
GO TO THE NEXT PAGE FOR INGREDIENTS, DIRECTIONS & FURTHER COMMENTS