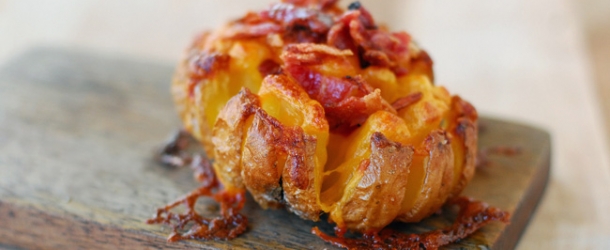 This Blooming Baked Potato recipe is a really clever and impressive way to show off your culinary skills at your next dinner party or family get together!
This is a classic baked potato combo of cheese and bacon–but in a very fancy and extra-savory package.  The "Blooming" of the potato makes it cook a little differently, too, and I like the texture of this dish much more than I do with most traditional ways of serving a baked potato.
You're going to look like a professional chef serving this to your friends and family! Just make sure you have enough – because this tastes just as delicious as it looks!
original recipe thegunnysack
USE THE RED NEXT PAGE LINK BELOW FOR THE RECIPE AND INGREDIENTS
Quick Tip: Use a thin and flexible knife for cutting the potatoes, and make sure it's sharp.